MUSIC
Lastlings
Share New Single 'Out My Head'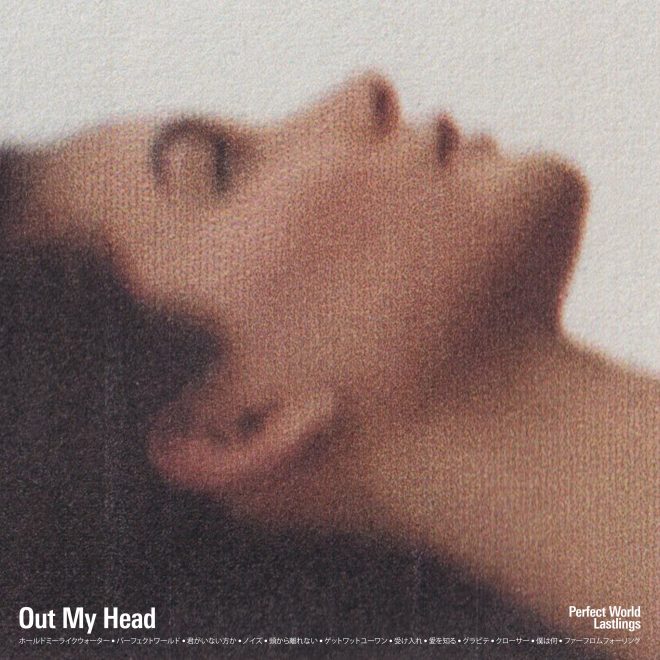 Lastlings Share New Single 'Out My Head' Off Forthcoming LP on RÜFÜS DU SOL's Rose Avenue Records

Announce North American Fall Headline Tour
Buy / Stream 'Out My Head' https://orcd.co/lastlingsoutmyhead

Buy Perfect World Tour Tickets https://lnk.to/PerfectWorldNATourEarlyAccess
Today, Japanese-Australian sibling electronic duo Lastlings release their new single 'Out My Head', out now on RÜFÜS DU SOL's Rose Avenue Records. 'Out My Head' serves as the fourth single off their forthcoming sophomore album Perfect World, due out June 23rd. Along with the single, Lastlings have announced their upcoming 14-date headline tour set to kick off on September 14th.

A tender introspective ballad, 'Out My Head' is an intimate addition to Perfect World. Describing the dichotomy of mixed emotions that comes with heartbreak, 'Out My Head' captures the feelings of fleeting nostalgia, with lyrics that embrace the hopefulness for what once was and the simultaneous desire to move on. Soft and synth-driven, 'Out My Head' embodies the angelic, wistful nature of Lastlings elegant production and relatable lyricism. Another chapter from Perfect World, a collection of personal stories with a youthful perspective on heartache and love, 'Out My Head' follows previous singles 'Noise', 'Holding Me Like Water', and 'Get What You Want'.

With their forthcoming album Perfect World, Lastlings explore the mental and emotional hurdles of lost love. Like its predecessor, Lastlings' sophomore album is deeply thematic and unconditionally personal, weaving a thorough storyline that transverses feelings of insecurity and vulnerability. The album acts as a therapeutic soundtrack, processing the feelings that come with heartbreak similarly to the way one overcomes grief. It's through this lens that Lastlings showcase the lyrical maturity and sonic growth that has captivated fans with each and every release.

This fall, Lastlings will return to North America, bringing their stunning three piece live setup to stages across the US and Canada for their Perfect World Tour. Kicking off on September 14th in Washington, DC, Lastlings' upcoming tour will see them headline iconic venues like New York's Irving Plaza and Los Angeles' Fonda Theatre. The 14-date tour will feature Amy performing live vocals with Josh on keys and guitar, and an additional drummer.

Japanese-Australian brother/sister duo Josh and Amy Dowdle have garnered an international reputation as a refreshing live electronic act Lastlings. Their talents combined on and off stage, the pair have built a sensational catalog of Amy's mesmerizing vocals complemented by Josh's indie electronic production. Releasing two EPs to early acclaim, the duo signed to Astralwerks and RÜFÜS DU SOL's Rose Avenue for their 2020 debut album First Contact. Lastlings have worked with producers like SG Lewis and toured with industry giants like Bob Moses and Glass Animals.

Lastlings invite fans to dive deeper into Perfect World with 'Out My Head' and pre-order their new album here.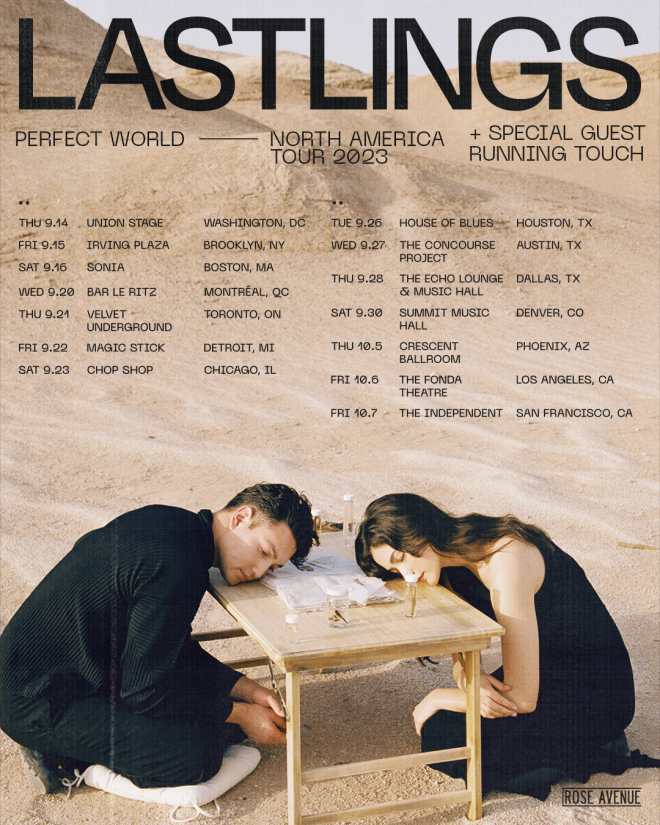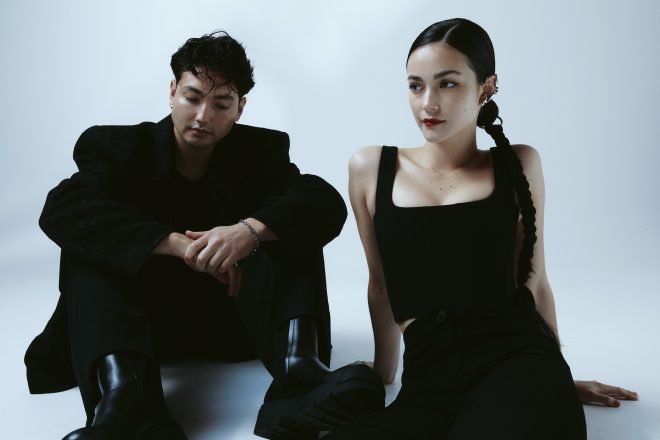 Load the next article