MUSIC
Best of the Birdfeed
Returns With Vol. 3 Compilation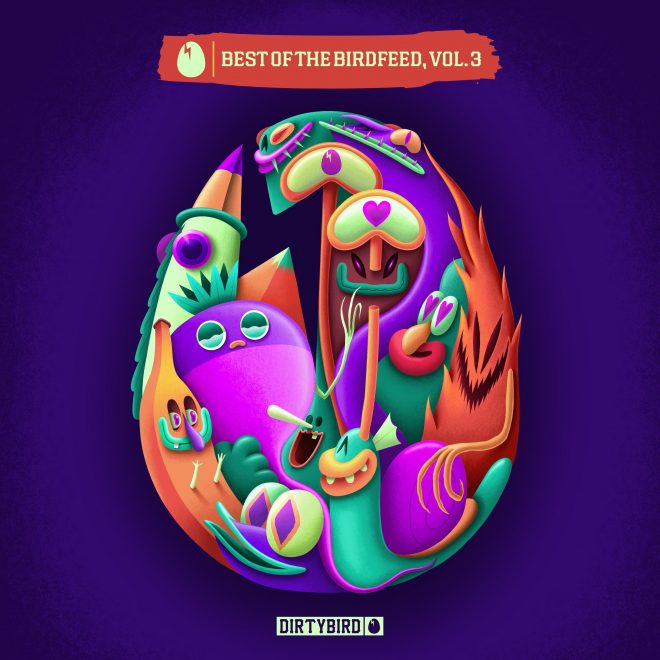 Best of the Birdfeed Returns With Vol. 3 Compilation
Out Now On Dirtybird Records
Buy / Stream Best of the Birdfeed Vol. 3 https://dirtybird.fanlink.to/bestofthebirdfeed3
Today, Dirtybird Records highlights its Birdfeed sub label with the release of the third edition of its Best of the Birdfeed compilation.

Marking the latest class of birdie inductees to be promoted to the main label, Best of the Birdfeed Vol. 3 showcases eleven of Dirtybird's finest up-and-comers. Tapping into the far-ranging base of artists who have been inspired by the label's unique brand of off-kilter house and underground techno over the last 18 years, Best of the Birdfeed features acts from all corners of the globe.

Vol. 3 kicks off with LA-based GrebMog's boisterous track 'Addicted To You' and Brazilian tech-house maker Hype Bass' wonky original 'Room 69'. Canadian jazz-house artist Left Ear Right offers his wavy 5-minute cut 'Lots Of Honey' while Italian tech producer MAGNVM! unleashes 'Poopdeck Pappy'. São Paulo-based duo Malik Mustache raise the energy with 'Brazil' and UK-bred Ray Vingh moves into shuffle mode with 'Hot Steppa'. Brazilian beatmaker Reconeckt brings eccentric tones to 'Turn It Up' while LA's Rodney Dinkles goes synth-heavy with 'Welcome Dance' and tech-funk maker Sam Shelby adds his rhythmic flair with 'Hoje Eu Sento'. Denver-based experimental producer Shady Jones bubbles up with his percussive original 'iComputer' before Brazil's Tamar Sabadini closes the compilation with his electrifying bass thumper 'Run'.

Since its inception, Birdfeed was created as a breeding ground for undiscovered talent and served as a place for up-and-coming artists to develop their skills with the hopes of moving up to the main label. The compilation series has a history of spotlighting artists who have gone on to become flock favorites, like Dillon Marinez, Luke Andy, and LUCATI.

Not only a platform dedicated to curating the latest and greatest Dirtybird talent, Birdfeed serves as conduit for the larger community of flock members. Subscribers are offered weekly exclusive privileges across the Dirtybird online playground, with access to unreleased and Birdfeed-only tracks, merch and ticket discounts, games, and more.

Dirtybird invites the flock to enjoy the next generation of up-and-coming talent from the nest with the Best of the Birdfeed Vol. 3 compilation out now and sign up for Birdfeed here.

Best of the Birdfeed Vol. 3 Tracklist:
1. GrebMog - Addicted To You
2. Hype Bass - Room 69
3. Left Ear Right - Lots Of Honey
4. MAGNVM! - Poopdeck Pappy
5. Malik Mustache - Brazil
6. Ray Vingh - Hot Steppa
7. Reconeckt - Turn It Up
8. Rodney Dinkles - Welcome Dance
9. Sam Shelby - Hoje Eu Sento
10. Shady Jones - iComputer
11. Tamar Sabadini - Run
Connect with DIRTYBIRD

Birdfeed l Twitch l Facebook l Twitter l Instagram l TikTok l Soundcloud l Spotify
Load the next article