News
Arca M-SL Live
Meet the visionary team behind Arca, the multi purpose venue making waves in Brazil.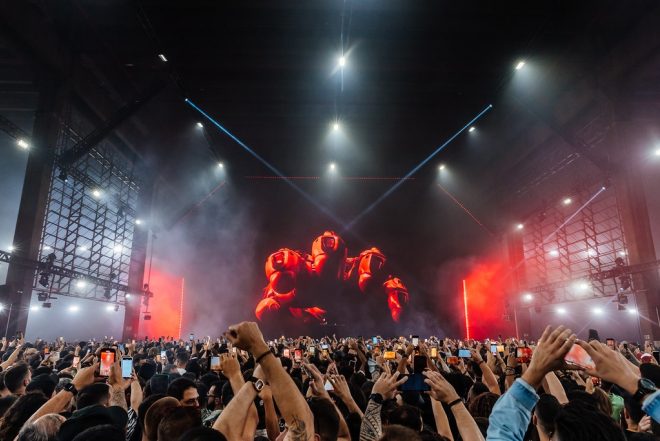 Meet the visionary team behind Arca M-SL Live, the multi purpose venue making waves in Brazil.
https://www.instagram.com/arcaspaces/
The vast, 9.000 m2 former steel factory has hosted world renowned brands such as Nike, São Paulo Fashion Week, Boiler Room, music festivals like Time Warp and artists like Charlotte De Witte and KNTXT, Claptone and Masquerade, Ben Klock, Peggy Gou, Anjunadeep, Drumcode and Adam Beyer and was one of only seven venues worldwide to host Eric Prydz's HOLO show.
Founded in 2019 by Mario Sergio Albuquerque and Mauricio Soares, M-S Live is headed up by two world-class event promoters. Mario has an extensive and successful career in the electronic music world as founder of the clubs Laroc and Ame in Valinhos and having worked on international projects such as Tomorrowland Brasil, Electric Zoo, Elrow, Timewarp and Circoloco. In partnership with Twofiftyk he's responsible for stage designs at festivals such as Rock in Rio and Só Track Boa, has designed the respected Laroc, Ame and new Green Valley clubs and is the manager of the electronic music duo Cat Dealers, featured in DJ Mag's TOP 100 ranking. Mauricio built his career with time in the technology industry, real estate market, worked as an innovation consultant for leading international companies such as Nike, GM and Microsoft, and more than a decade in the entertainment and events industry as Country Manager at ID&T Brasil and Marketing Director at Plusnetwork working on international events such as Skol Sensation, Tomorrowland Brasil, Electric Zoo and Milkshake, among others. He is also the manager of the electronic music duo BINARYH, a breakthrough act in the melodic techno scene.
M-S Live works at the convergence between creativity, entertainment and technology, producing and promoting major electronic music events with some of the main brands and artists in the industry.
Say Mario and Mauricio, "Our purpose is to bring together people, perspectives, languages and cultures in fantastic environments, creating experiences that provoke the senses and awaken consciousness. One of these environments is ARCA. Its history of events, although brief, is admirable: almost all the events held by M-S had their tickets sold out and were a success not only among the public, but also earned praise among artists and promoters from inside and outside Brazil."
At M-S Live events, food and books are collected and donated to the Associação de Moradores do Ceasa, which contributes to the needy communities around ARCA. These actions enabled the creation of a library at the association's headquarters, in addition to adding more than five tons of donated food. During the COVID-19 pandemic, M-S Live produced Drive Thru Art, the first drive-thru art exhibition in the world.
ARCA is found at the heart of the redeveloped Vila Leopoldina, a former industrial district that has seen a vast urban, cultural and social transformation. It bridges the gap between past and future through the redefinition of a monumental industrial structure in an old industrial complex. Like Printworks in London or Gashouder in Amsterdam, it is an impressive architectural place that can be transformed with stunning production in many different ways. It is somewhere you dare to think differently and create new realities as you get lost in immersive and world class light and sound.
Load the next article