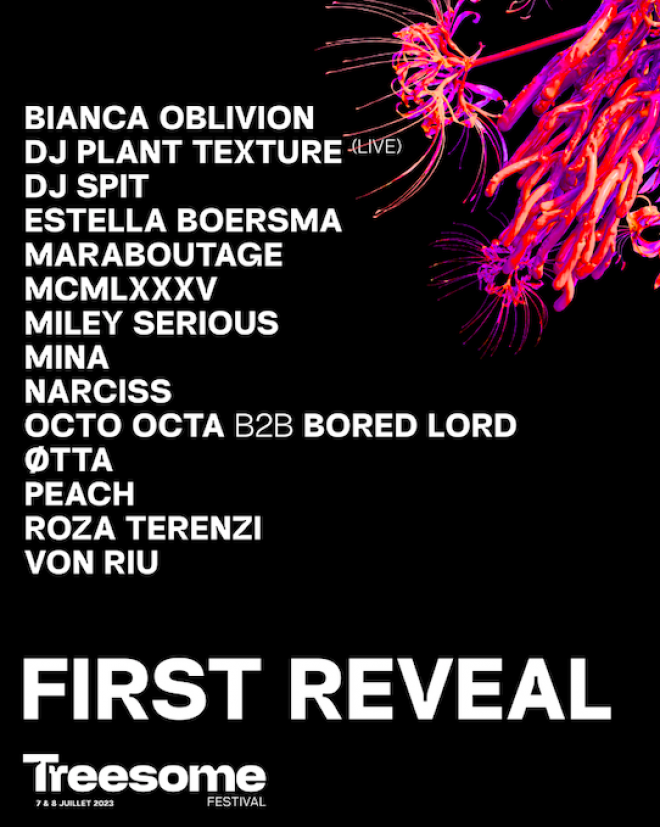 Treesome is a party, a movement, a dance. An innovative and responsible event that brings together three stages: techno, house & afrobeat and the best signatures of the moment.
You can dance under the trees, without restraint and until the early hours of the morning, to the sound of just about everything that makes electronic music lovers vibrate, from wild techno to the heat of Afrobeat and house music with its good vibrations.
For two days, a free, safe, associative and militant space where bodies and ideas will cross, embrace and clash to try to imagine the party of tomorrow. A non-formatted LGBTQIA+ event, creating social links. A project that is locally based, but which wishes to spread internationally.
LINE UP:
BIANCA OBLIVION
DJ PLANT TEXTURE (LIVE)
DJ SPIT
ESTELLA BOERSMA
MARABOUTAGE
MCMLXXXV
MILEY SERIOUS
MINA
NARCISS
OCTO OCTA B2B BORED LORD
ØTTA
PEACH
ROZA TERENZI
VON RIU
INSTA - FACEBOOK - SOUNDCLOUD - WEBSITE

Load the next article