News
Sita Abellán's
Euphoric OUTOPIA Party Returns to Madrid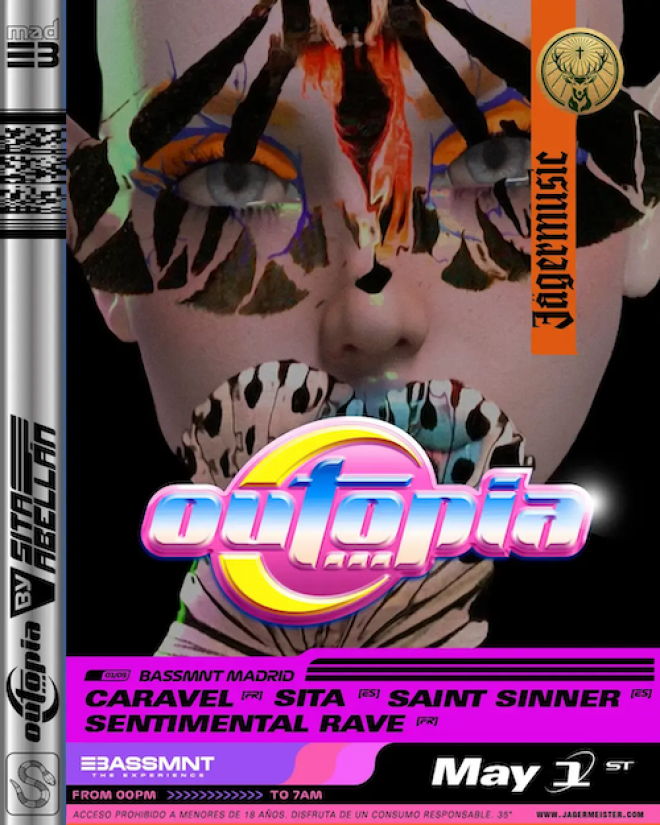 Sita Abellán's Euphoric OUTOPIA Party Returns to Madrid

OUTOPIA to Continue Its Residency at Madrid's Bassement Club
OUTOPIA
Monday, May 1
11:00 PM - 7:00 AM
Bassement Club
Calle de Galileo, 26, 28015 Madrid, Spain
Tickets and more info here.
Spanish producer/DJ, model, designer, and fashion icon Sita Abellán has announced the next installment of her beloved OUTOPIA club night, which is back once again at Madrid's Bassement Club on Monday, May 1. This event follows two editions in Barcelona and two in Madrid, all of which were editorial picks from clubbing authority, Resident Advisor.

While she continues to be one of the most sought-after designers/stylists in the fashion world, Sita Abellán is in the midst of a meteoric rise in club-land. She has DJ'ed at some of the most cutting-edge dance floors around the world, from Ibiza's DC10 & Hï Ibiza to Las Vegas' Art of the Wild, to Secret Project ADE, to Miami Music Week. A fierce supporter of global femme and LGBTQ+ culture, she's performed at Barcelona's Loom Festival and is a favorite of the He.She.They crew.

As a DJ, Sita's love of historical techno and electro sounds is paired with a fierce fascination for the new and current, channeling ravey psychedelic elements with dark, industrial influences. A haven for techno and rave music, OUTOPIA is designed as an inclusive space hosting female and non-binary lineups.

"OUTOPIA has zero tolerance for any hate or homophobic behavior! Those who break the rules of respect and love for everyone will not be welcome at the party. We want this to be a safe place for all of you." –Sita Abellan.

In addition to Sita, the fifth edition of OUTOPIA will feature Paris-based producer and Synoid resident CARAVEL, co-founder of the like-minded event series RESILIENCE, which champions a brutal style of industrial techno and hard dance around Europe. Joining them is another hero of rave music, SENTIMENTAL RAVE, who has become one of the most promising names in Paris's techno and hardcore scene, specializing in hard, fast, yet rapturous DJ sets. Rounding out the women-led lineup is Madrid techno scene staple SAINT SINNER, a resident of one of Madrid's first sex-positive raves, Skin, which has been thriving in the city over the past two years at Strong the Club.

Minted just over a year ago, Madrid's Bassement Club has quickly become a cornerstone of the city's techno scene. Since October 2021, Bassement has hosted an impressive roster of international heavyweights from Richie Hawtin to Monika Kruise to Sven Vath. The space draws audiences in with an innovative sound system and state-of-the-art lighting. Sita Abellán's OUTOPIA party is one of the latest residencies to take over the 1,000-square-foot dance floor with more dates to be announced soon.
Connect with Sita
Website l Facebook l Twitter l Instagram l Soundcloud
Connect with OUTOPIA
Instagram
Load the next article