ARTISTS
N/UM
New York electronic live trio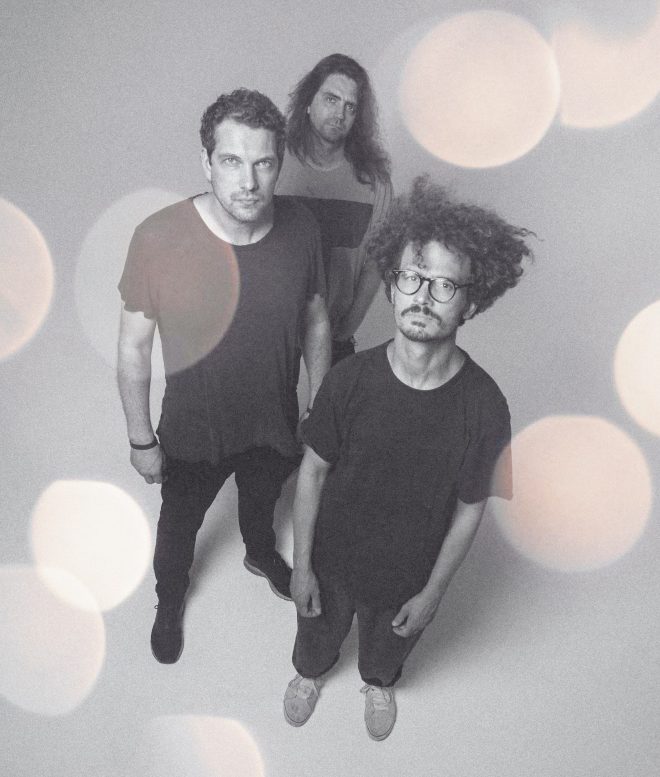 The New York electronic live trio N/UM brings the immediacy and excitement of improvised music and live composition into the venues of warehouse-raves, clubs and festivals.
To attend a N/UM show means embarking on a sonic adventure with the musicians into undiscovered soundscapes. Utilizing the most iconic of analog synths and drum machines, vocals, modular synths and guitar, every performance of the trio is an exploration. Drawing on a huge range of influences from Techno and House to Avant-garde Jazz, melodic songs with soaring vocals and Minimal Techno, N/UM induce a dream-like state of consciousness that preludes captivating grooves and dance-floor shaking beats.
The group unites three longtime friends who have always shared a deep passion for electronic music. They are multi Grammy Award winning mixing engineer and producer Jeremy Loucas, guitarist Elias Meister of world-renowned rap group Residente (Calle 13), and Danish multi instrumentalist and producer Emil Bovbjerg.
The three have performed and collaborated in a variety of musical settings for more than a decade, fostering the understanding and trust that enables them to dive into the music in their distinct way. The phrase 'You had to be there' has never been more true than for a N/UM live show.
No plan or structure is agreed upon; the energy between the musicians, the audience and the space is the sole guiding light into each of their unique shows and recordings. While tracks and songs will constantly materialize in each performance, they are singular events never to be repeated, specific to that moment in time.
N/UM performed live for Mixmag Lab in New York and have recorded live sets for John Acquaviva's Ibiza Global Radio, Deep House London (DHA), and The Lot Radio. In 2019 they toured in India performing at the Nowhere Is Here Festival in Meghalaya, and shows in Bengalore and Goa.
The tour was followed by their debut in the Berlin club scene and their performance at the Fusion Festival in Laerz. In 2021 they performed at Resolute (New York) and made their way into the Nevada desert to perform on the legendary Robot Heart Bus. The year was capped off with a performance at the Art With Me Festival (Miami, FL). Highlights in 2022 were their invitation to be part of Cityfox Live at Brooklyn's Avant Gardner as well as the closing performance at the Mutek Montréal Festival at the SAT Dome with 360 live projections by visual artist collective Isotone.
They released their debut vinyl Zebra (LP, Duro) in 2016 followed by the EPs Yes (vinyl - Ninetofire, 2017), Aporia (Lost Diaries, 2018) and Ravens (vinyl - Positive Elevation, 2019).
Despite the daring premise and unconventional creative approach the mission statement of N/UM is simple: The opposite of war is a dancefloor.
'Levers of History' is the second full length album and fifth release by New York electronic live trio N/UM.
Unable to play as a group due to quarantine for a period of many months, the trio finally got back together to record a series of spontaneous, thematic, and captivating tracks, brimming with the electrifying momentum of a long awaited leap back into collective improvisation and a powerful creative spark reignited.
From the first notes The Levers of History pulls the listener into a mysterious psychedelic soundscape, layered with intriguing vocal runes and laid back yet driving bass melodies, accompanied by body swaying grooves and guitar-work of an unorthodox but wide field of dimensions, all seamlessly combined into a musically stimulating hypnotic journey.
The trio falls into harmony more than ever before on the album in six extended chapters, again breaking with predictable formulae and norms, true to the trademark of the New York trio that has seen rapidly growing demand in recent years for their fearless all-improvised live shows, often performed in the midst of raving crowds without barriers, both physical and musical.
For this special release N/UM invites the Canadian visual art collective Isotone as collaborators, augmenting the album with a visual interpretation and expanding the work into multi-media artistic territory. The two groups have collaborated recently in the live setting, delivering a mind-altering 360 A/V live performance at the 2022 edition of MUTEK Montréal, lighting up the Satosphére Dome at Société des Arts Technologiques for the closing show of this years highly anticipated return of the seminal festival.
Finally, contributing a fitting field trip of a remix, the acclaimed Perlon artist, DJ and performer extraordinaire Dr. San Proper reinterprets the title track "Levers of History" with signature infectious breakbeats and kaleidoscope sonic visions, maneuvering the material in masterful fashion, like an acid boat ride through the canals of Amsterdam.
The album marks the relaunch and return of operations of the groups in-house label Ninetofire. The label has a number of releases lined up for 2023, starting with a Various Artists Compilation and several EP releases from their growing circle of outstanding talent.
The album will be available via the Ninetofire Bandcamp store as well as major streaming platforms.
The audiovisual version of the LP is an expertly crafted mix derived from the album tracks set to stunning visuals by the Isotone crew and will be available to stream on several major video platforms and select media outlets.
N/UM will bring their live show to U.S. East-coast cities in the winter months starting with Washington D.C.'s FLASH on November 23'rd and will be found on the festival circuit and in major European cities in the Spring and Summer of 2023.
N/UM
https://www.instagram.com/numlive
https://www.facebook.com/numlivemusic
https://soundcloud.com/numlive
https://www.youtube.com/channel/UCWeyCLPt4OimomCgO...
https://open.spotify.com/artist/0YxGQ7CyOMSiH7huVU...
Load the next article