News
Mixmag CA - Interview with Burning Beach Co Founder Alicja Zakrzewska
Laura Liendo
10 November 2023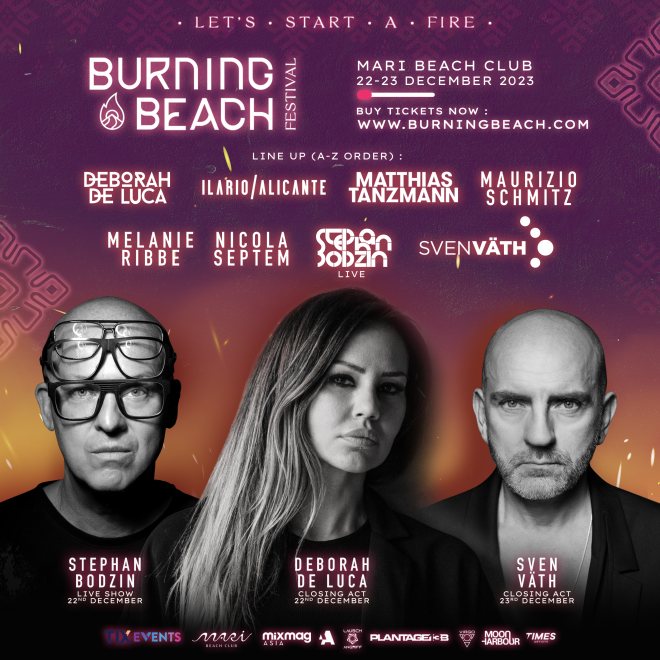 1. How long do you spend setting up Burning Beach each year and what goes into it?
The organisation of the festival follows a distinct rhythm, much like any well-orchestrated production. After one edition concludes, we embark on a multifaceted journey. On one hand, we dive into marketing efforts, sharing recap videos and photos to relive the magic. On the other hand, we meticulously handle financial settlements and summarise our learnings.
Simultaneously, we kickstart the next chapter by curating a stellar lineup of artists for the upcoming edition. This process is a year-round endeavour, and the excitement steadily builds, starting around July and reaching its zenith in the months leading up to the grand event.
Burning Beach Festival is a labour of love that continually evolves, guided by our collective experiences and insights, as well as feedback from the ever-discerning Bali audience. It's a journey that keeps us fired up and inspired.
2. Tell us how it came about?
The roots of Burning Beach date back to 2018, on the pristine shores of Lombok. What began as a humble 2-day beach house and techno party to celebrate the end of the kitesurfing season soon turned into something much bigger. The idea for a grander event took shape in 2020 after we hosted three successful parties, each etched in memory for their amazing vibes, especially amid the backdrop of pandemic-related restrictions. These gatherings brought together wonderful people and local Indonesian DJs.
Some of us on the team had previously organised large-scale events in Europe, so we were faced with a clear choice - go big or go home. Our initial dream was to host the festival in Lombok, a naturally beautiful island with spaces that allowed for 48 hours of uninterrupted music without disrupting the local environment. However, post-pandemic travel costs soared, prompting us to relocate the festival to Bali, the South-East Asian tourist hotspot.
Last year, we were thrilled to welcome legends like Dubfire, Danny Tenaglia, Anja Schneider, Richy Ahmed, Monkey Safari, and many more. With two daily stages and two all-night-long stages, it was a monumental year. This year, we've decided to set up shop in Canggu, the heart of Bali's beach and nightlife scene, with a single stage featuring incredible DJ headliners who perfectly embody the essence of Burning Beach Festival - a space for legends, creators, and rising stars in the world of house and techno
3. What is the vibe and aim of the festival - what do you want to be known for?
At the core of Burning Beach Festival lies a deep appreciation for electronic music in its purest and most vibrant form, experienced right on the beach. When we talk about music, we're not referring to the mainstream; we're all about the essence of house, techno, tech-house, and melodic techno. It's the kind of music and rhythms that invite you to dance, open the doors to your imagination, set your spirit free, and energise your soul.
Our dreams for this festival were pretty clear from the start. We wanted to bring live performances to the forefront, which is why we're thrilled to have Stephan Bodzin, whose sets are like captivating stories and fairy tales in music form. We also aimed to feature strong personalities on the female DJ stage, leading us to the talented Deborah de Luca, whose performances draw thousands of festival-goers from around the world. And then, to top it all off, the unimaginable happened when we secured the undoubted guru of techno music, Sven Väth, who is making his return to Bali after 20 years!
To answer your question, we want Burning Beach Festival to be recognized as an event that showcases the best DJs from around the world and talents who are rapidly making a name for themselves with their unique style and charisma on stage. Our carefully curated selection of DJs, spinning their tunes on the beach from sunset until the late hours under the starry sky, aims to not only attract electronic music enthusiasts from South-East Asia but also tourists looking to add Burning Beach Festival to their travel itinerary alongside cultural adventures, rice-field trekking, surfing, or hiking.
Rest assured, we're committed to delivering a seamlessly organised event that leaves you with the most unforgettable memories!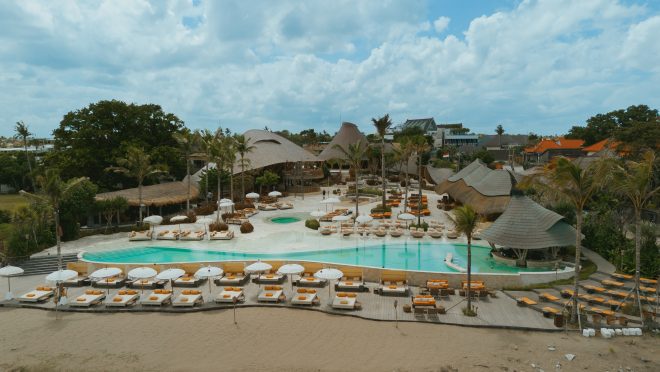 4. What are challenges to organise such a festival in Indonesia, in Bali, compared to other places?
Bali is a unique marketplace, presenting its own set of challenges and opportunities. It's not just a cultural melting pot within a thriving expat community, but also a magnet for tourists from all corners of the world. In the post-pandemic landscape, it's transforming into the South East Asian equivalent of Ibiza, and if we navigate these waters successfully, it promises an exhilarating journey!
Financing the festival is another puzzle we've had to piece together. Event sponsorship in Indonesia operates under slightly different rules, and for a new festival, securing funds can be a daunting task, especially when most costs need to be covered upfront.
Plus, there's the intriguing dance of the best DJs, who are free to explore Asia after their high season in Ibiza, coinciding with Bali's rainy season. Fortunately, the wet season here tends to be gentle, with temporary rains. But event organisers must always be prepared for these curveballs.
Then, there's the matter of Bali's unique ticket-buying culture, often driven by last-minute decisions influenced by traffic and weather conditions. This unpredictability is a challenge for open-air events, but it's also part of the island's allure.
While many aspects can be efficiently organized in Bali, some, such as permits and immigration administration, require months of meticulous work. Nevertheless, Bali's magnetic pull lies in its unparalleled atmosphere and vibes, courtesy of the warm and welcoming locals, mouthwatering food, breathtaking landscapes, and the unique Balinese culture.
We're excited to honour this exceptional culture in our opening show, especially since our venue, Mari Beach Club, proudly embraces the "A little Bali" ethos, using local materials and ingredients, and adding a touch of Bali with its weekly Balinese dance shows.
5. How important is it for your line up to be diverse and representative of all sorts of people?
Diversity is the heartbeat of our festival, and it's what drives us to create our daily running order. If we rigidly followed a minute-by-minute schedule, we'd miss out on showcasing the incredible artists who represent genres like melodic techno. The art of slowly warming up the crowd, then cooling down, only to build up to a musical explosion isn't an easy one, but it's what sets us apart.
We've dedicated weeks to passionate discussions with our booker, carefully weighing what we expect, which festivals we'd like to align with, and what music and vibes truly resonate with the island and our venue. We've considered which artists are well-known in Indonesia, who's recently graced our stages, who can be the big "ticket-sellers," and who can bring that electrifying surprise factor.
In our 2023 lineup, we've got legends like Sven Väth, whose performance in Bali promises a lifetime experience for fans who've been following him since the '90s. Deborah de Luca will draw in a younger, social media-savvy audience who've been captivated by her career. We're thrilled to introduce the crowd-mover, Ilario Alicante, and the young sensation, Melanie Ribbe, who has stolen the hearts of thousands of attendees not only in Ibiza but also in Brazil.
Matthias Tanzmann, Maurizio Schmitz, and Nicola Septem, solid and experienced DJs, are making their Bali debut, adding a fresh flavour to the mix. And of course, we have the incomparable Stephan Bodzin with his live show, a true guru in leading the crowd on a musical journey.
We firmly believe that the Burning Beach Festival lineup will resonate with electronic music enthusiasts of all ages. And guess what? We're already hard at work on our 2024 lineup, aiming for even more diversity and the best artists. Keep your fingers crossed for us!
FB: https://www.facebook.com/festivalburningbeach
Load the next article