MUSIC
Maude Vôs and Marie Nyx
Share Pride Anthem "In The Club Out" Via Delusional Records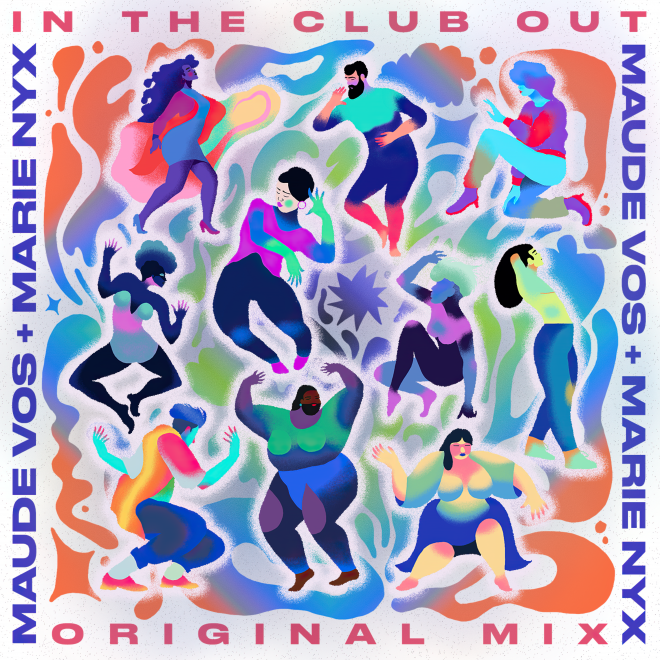 Maude Vôs and Marie Nyx Share Pride Anthem "In The Club Out" Via Delusional Records
In The Club Out Remix EP Out June 30 Featuring Baby Weight, Leonce, Mar 66, Janus Rose, Kudeki, and PlayPlay
Today, Maude Vôs and Marie Nyx, co-founders of acclaimed inclusive LA based label Delusional Records, have shared their Pride month banger "In The Club Out." An anthem for queer identity, the cut features a rolling house groove with deep synths and jittery drum loops as a ethereal, robotic croon floats above the track, guiding the song's message of acceptance: "I'm in the club, and I'm in the club out." It's a fitting celebration, aiming to center the role of dance
music in the development of the modern LGBT movement. As Vôs puts it, "['In The Club Out'] is an ode to queer club culture. It embodies richness and fulfillment we experience after a night out with our found family. This song embraces the diversity of the LGBTQIA+ community and showcases visibility around each identity."
Listen / Share: "In The Club Out"
Furthering this message of queer community bonded by music, the initial release of "In The Club Out" will be followed by several remixes from LGBTQIA+ artists across the USA. "The remix portion of the release is so meaningful" says Vôs, "as we brought together queer artists from all over to remix In the Club Out. This remix lineup is a showcase of diversity and intersectionality within the LGBTQIA+ community." The release will feature remixes from D.C.'s Baby Weight, Atlanta's Leonce, Los Angeles' Mar 66, New York's Janus Rose and PlayPlay, as well as the Bay Area based DJ Kudeki. Embracing the distinctions of regional sounds, the In The Club Out EP celebrates the beautiful distinctions within the queer community around the world.
Representing their first collaboration on original music, the two artists are ecstatic to release it on their very own Delusional Records. Marie and Maude founded the label with the fundamental goal to revive the roots of dance music culture by releasing timeless, hardware driven pieces of work created by an inclusive roster of artists; primarily LGBTQIA+, BIPOC, and women. Since its founding, the label has been featured in SPIN Magazine, Insomniac Radio, EDM Maniac, and more. They're also active in sharing their craft, hosting workshops on Ableton, sound design and synthesis within their community, as well as teaching audio production to young women and at-risk youth for non-profits. Recently, the label was nominated as a candidate for DJ Magazine's Best Breakthrough Label award in their Best of North America poll. Voting will close tonight at midnight, and can be done here.
About Maude Vôs:
Shimmering with metallic warmth, fluid melodies, and dark tension, Maude Vôs' productions and live performances are marked by an infectious energy and multifaceted enthusiasm for creating and connecting. Channeling the organic flow of a studio wired with a panoply of hardware gear, the Los Angeles-based artist has cultivated a growing catalog of distinctive releases and remixes alongside their professional work as a sound designer and composer. As a DJ, their sparkling, psychedelic mixes are filled with lush atmospheres, whispered vocals, and synthesizer music of all genres. Vôs appears in the book Patch and Tweak with Korg (Bjooks, 2022), was recently named an artist to watch by DJ Mag, and has been featured by SPIN Magazine and Perfect Circuit. Dynamic and deeply felt, their creativity shines with an optimistic, expansive vision of mutual exchange and soul connection.
About Marie Nyx:
As one of the premiere DJs in Los Angeles, Marie Nyx has an unmatched ability to adapt to the wants and needs of any dance floor without sacrificing her infectious, apparitional style. Marie's early influence of post punk, new wave, darkwave, and indie/alternative dance has inspired her sound to be raw and dark with gritty synth lines and driving grooves. Marie was named in the November issue of DJ Mag's monthly Bubblers Series as one of six emerging acts to follow and is recognized for revered DJ sets around Southern California. Notable bookings include Crssd Festival and Fngrs Crssd events, the Mixmag Lab LA, and 6am Group events, where she's played in direct support of artists such as Sven Väth, Marcel Dettmenn, Pleasurekraft, Dubfire, and Nastia.
Load the next article