MARC ROMBOY'S NEW ALBUM "MUSIC MADE FOR ALIENS" IS OUT TODAY ON AWESOME SOUNDWAVE
NEW ALBUM "MUSIC MADE FOR ALIENS" IS OUT ON AWESOME SOUNDWAVE
MARC ROMBOY'S NEW ALBUM "MUSIC MADE FOR ALIENS" IS OUT ON AWESOME SOUNDWAVE
TRACK LIST
SIDE A
A1: All world, all times
A2: Hanenda
B1: Exeter
SIDE B
C1: Black triangles
C2: Intelligence
D1: Belgium
D2: Aurora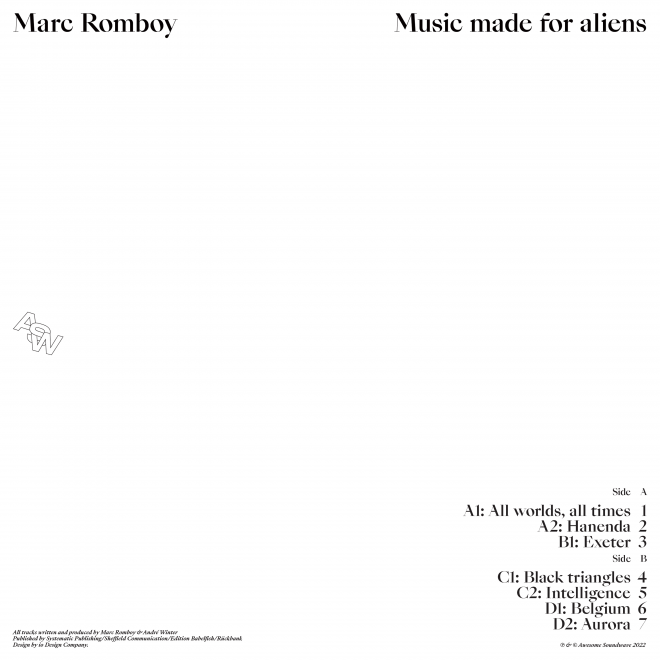 Throughout time artists and genres come and go, sounds evolve and trends recycle, but an artist who has stuck true to his destiny and path in electronic music is - Marc Romboy. A sincere passion from a young age which has seen him go on to have an illustrious career, releasing on stellar labels, blurring the lines between genres from techno to neo-classical. Most recently Romboy finds himself on the prolific Awesome Soundwave label, a label of which he will release his first club album in 15 years - "Music Made For Aliens". So where did it all begin for the German producer, DJ and live performer? And where did the colourful path travel from there?
An eight year old little Marc finds himself bouncing into the local record store with his mother, hopping along and singing the famous "The Robots" by fellow German pioneers, Kraftwerk. Of course the shop owner knows immediately the record the young child is singing and hands him the recently released 7", the first flavour of a lifelong addiction to electronic music. It is rare for someone of such a young age to be in this situation, and as time moved on through the 80s the fixation grew stronger, and already as a teenager Marc was experiencing the prime era of acid house, attending his first parties in Königsburg, Krefeld and "Dorian Gray" Frankfurt in '87, and two years later debuting in the booth of the club "Sunrise" in his hometown, Mönchengladbach. The next stages as a musician have been initiated, and an excited Marc is ready to see what the 90s era and twenties brings him.
The inevitable happened and Marc went on to purchase his first instrument in '91, the sought after Roland TB 303 acid bass synthesizer, this shaped his first self produced record on Adam & Eve Records, "Monotraxx Vol.1" under his Unknown Structure moniker, so already by the early stages of the decade he was establishing his production sound. Next came the co-foundation of his first label, "Le Petit Prince" which was a success with releases from Microwave Prince, Emmanuel Top and Marc's own project, Marc Et Claude. An alias which saw him feature in the UK charts at the back end of the era, the single "La" on Positiva Records was the popular track, inserting Marc on the radars of tastemakers beyond Germany.To round off what had been a fruitful 10 years since his first DJ gig Marc released his first record under his own name, "Ultra Vixens" a collaborative release with German techno stalwart, Thomas P. Heckmann. Confident and thriving with pure passion and talent, Marc enters the new millennium with as much enthusiasm as ever.
Kickstarting the noughties was a pivotal performance on famous UK music show Top Of The Pops, "I Need Your Lovin' (Like The Sunshine)" a classical trance hit which was received with open arms. The next years saw Marc going back to his roots and enter a journey of underground releases, releasing his first solo EP, "Hyperharmonic" on Superstition Records, and in 2004 founded what went on to be the innovative Systematic Recordings, a safe haven for high quality house and techno sounds from Marc himself with albums such as "Gemini" and "Contrast" but also showcased productions from highly respected artists such as Robert Owens, Blake Baxter, and Stephan Bodzin. The label went on to inspire a generation, at the forefront of the bubbling house and techno scene.
As we peek into the next decade - "the era of collaborations" - further work with Stephan Bodzin saw the light of day, the "Luna" album received global acknowledgement, seeing both of the artists hit the road for a world tour with pit stops at recognised locations such as Fabric, Rex, Berlin institution Berghain, and several years later a Boiler Room in Sao Paulo together. Romboy also saw Boiler Room love with a solo outing in Berlin in the same year. Circa the same period "Taiyo" was born, another integral collaboration but this time with Japanese artist, Ken Ishii.
With the above sounds all on a similar tip, Marc decided to delve deeper, proving his versatility with a series of collaborations outside the realms of his familiar sound. The first of several co-operations with orchestras took place in 2016, the Dortmund Philharmoniker, a project where they performed works of Claude Debussy with electronic music elements and was broadcast by Boiler Room. The second appearance was at the iconic Elbphilharmonie concert house in Hamburg with Miki Kekenj and the Takeover! Ensemble, playing Johann Sebastian Bach works with his intelligently arranged influences. These experiences undoubtedly affected Marc's next output, seeing him drop two neo-classical albums "Voyage De La Planète" and "Reconstructing Debussy", a recording of the Dortmund concert.
The taste for twiddling the knobs and performing live on stage grew stronger and stronger and these vital and learning curve experiences were brought in to electronic music meaning Marc started to tour with his first solo live performances including Watergate, Berlin, Marktkantine Amsterdam, Fusion Festival, Astropolis in Brest, Ziggo Dome and Wembley Arena with Awesome Soundwave amongst many others in recent years.
Marc Romboy was an essential artist then, and is an essential artist now, you can only admire his integrity and pure devotion to music. Experience is everything and Marc absorbs the energy from his lifelong dedication and still continues to strain the boundaries of his sound, original and timeless, and that is why he is widely appreciated.
Marc Romboy on socials: