News
Locus
Brings biggest Drum 'N' Bass Festival Line up to Tulum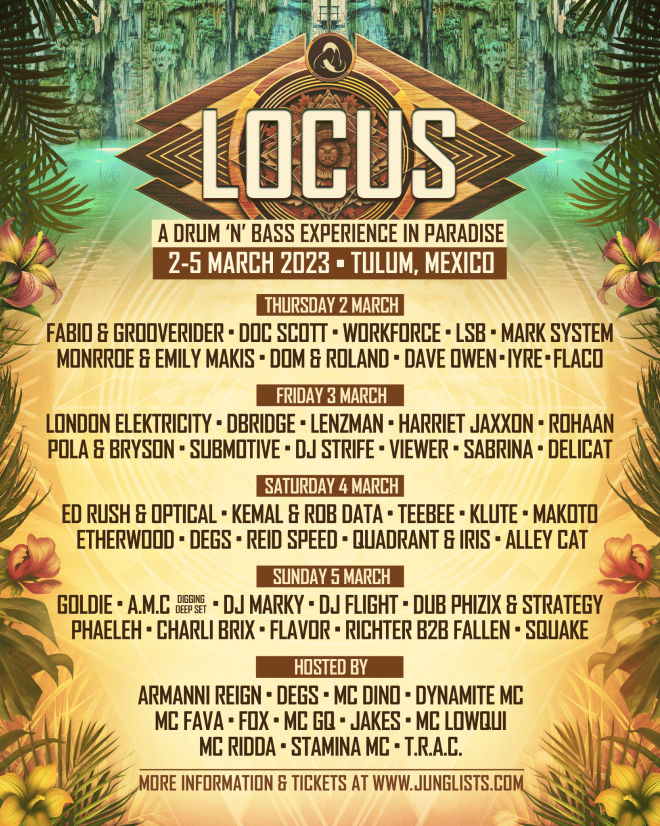 Locus brings biggest Drum 'n' Bass Festival Line up to Tulum
Goldie, Fabio & Grooverider, Doc Scott, DBridge, Ed Rush & Optical all headline
https://www.facebook.com/locus
https://www.instagram.com/locustulum
Goldie, Fabio & Grooverider, A.M.C, DJ Marky, London Elektricity, Kemal & Rob Data (aka Konflict), Ed Rush & Optical, Doc Scott, DBridge, Lenzman, Teebee and many, many more all play in Tulum this March
After a still much-talked-about and truly historic debut last year, LOCUS Tulum is back bigger and better than ever in 2023. This vibe-filled and unique celebration of drum 'n' bass culture takes place in the paradise of Tulum, Mexico, from 2-5 March, with the most comprehensive and cultured drum 'n' bass lineup North or South America has ever seen.
Get your one, two or four day passes now at https://www.ticketfairy.com/event/locus-tulum-2023, with Mexican locals enjoying up to 40% cheaper prices.
Established in 2000, LOCUS has long been setting the benchmark for drum 'n' bass events and this now annual trip to Mexico is another reason why they lead from the front with a line-up that represents the past, present, and future of drum 'n' bass. It is an unrivalled four-day musical culture and travel experience in a sun soaked tropical haven paradise, surrounded by sun beds, towering palm trees and gorgeous jungle greenery.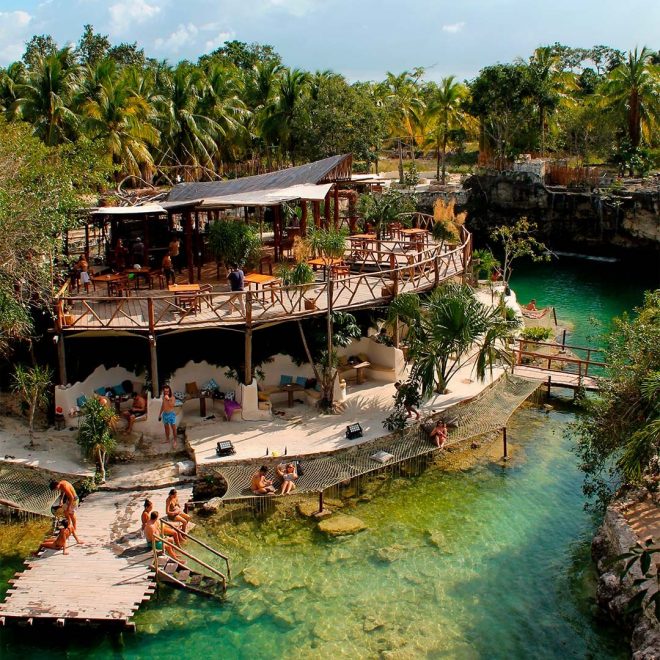 The magic plays out across three stunning venues, including the incredible Buuts' Ha' Cenote Club. Located just outside Tulum, it is an organic open air space with a boho feel, wooden decking and surrounded by green-blue water that allows you to spend a day swimming, eating amazing food and listening to some of your favourite drum 'n' bass artists in paradise, with free shuttle transportation from Tulum's main town. Then there is Tatich Beach Club, another gorgeous venue directly on the beach with a pool and incredible restaurant, which will host drum 'n' bass for the very first time. Finally, each evening finishes at the hottest new venue in Tulum, Tehmplo, going into the early hours of the morning.
Each of the four days is packed with talent from top to bottom. Day 1 features godfathers of the scene such as UK legends Fabio & Grooverider next to key Metalheadz artist Doc Scott, plus Workforce from Must Make Music, who was previously half of SpectraSoul, and more like LSB, Mark System, Monrroe & Emily Makis, Dom & Roland, Dave Owen, IYRE and Flaco.
Day 2 welcomes enduring scene kingpin and Hospital Records founder London Elektricity alongside the man who constantly revenants himself, Exit Records boss DBridge. Dutch Metalheadz artist and underground hitmaker Lenzman of The North Quarter, Ram Records star Harriet Jaxxon and red hot producer Rohaan also line up with Submotive, who struck real gold with his Subjective collaboration with Goldie, and many more.
Day 3 brings originators and chaos makers Ed Rush & Optical while Kemal & Rob Data (aka Konflict) reunite at LOCUS for their first show in over 20 years. All styles from neurofunk to liquid are covered, as they are joined by the influential veterans Teebee, Klute, Hospital artists Makoto, Etherwood and Degs and several others.
The final day ends LOCUS with a world class bang as the one and only Goldie stops by for a masterclass. He is joined by four-time winner of the World's Best DnB DJ award, A.M.C, who plays a first ever live Deep Digging set - usually saved for recorded mixes - and Brazilian scene godfather DJ Marky also plays with DJ Flight, Dub Phizix & Strategy, Phaeleh and more.
Hosts for all this musical madness are at the top of their game and include Armanni Reign, Degs, MC Dino, Dynamite MC, MC Fava, Fox, MC GQ, Jakes, MC LowQui, MC Ridda, Stamina MC and T.R.A.C..
With breathtaking views, rich local culture to explore, an out-of-this-world setting and a carefully curated lineup of next level talents near to the famous Mexican jungle, LOCUS offers a drum 'n' bass experience like no other.
For more information, visit www.junglists.com
LINEUP
Thursday 2 March
Fabio & Grooverider (Creative Source / Prototype)
Doc Scott (31 Records / Metalheadz)
Workforce (Must Make Music)
LSB (Footnotes)
Mark System (Soul in Motion)
Monrroe & Emily Makis (Shogun Audio / Soul In Motion)
Dom & Roland (Dom & Roland Productions)
Dave Owen (Driven AM)
IYRE (Goldfat / Soulvent)
Flaco (Innerground)
Friday 3 March
London Elektricity (Hospital Records)
DBridge (Exit Records)
Lenzman (The North Quarter)
Harriet Jaxxon (Ram Records)
Rohaan (Deadbeats)
Pola & Bryson (Shogun Audio)
Submotive (Guidance / Subjective)
DJ Strife (Driven AM)
Viewer (Soul Deep Recordings)
Sabrina (Rinse FM)
Delicat (SUNANDBASS)
Saturday 4 March
Ed Rush & Optical (Virus Recordings)
Kemal & Rob Data aka Konflict (Negative / Cryptic Audio)
Teebee (Subtitles)
Klute (Commercial Suicide)
Makoto (Hospital Records / Human Elements)
Etherwood (Hospital Records)
Degs (Hospital Records)
Reid Speed (Play Me Records)
Quadrant & Iris (Commercial Suicide)
Alley Cat (Kokeshi)
Sunday 5 March
Goldie (Metalheadz)
A.M.C - Digging Deep Set (Titan)
DJ Marky (Innerground)
DJ Flight (EQ50)
Dub Phizix & Strategy (Senkasonic / Exit)
Phaeleh (Undertow)
Charli Brix (Flexout Audio)
Flavor (Jungle Empire)
Richter B2B Fallen (Bassrush)
Squake (Bassdrive)
Hosted By
Armanni Reign
Degs
MC Dino
Dynamite MC
MC Fava
Fox
MC GQ
Jakes
MC LowQui
MC Ridda
Stamina MC
T.R.A.C.
Load the next article