News
Ibiza's OpenLab
Presents OffBeat - Daniel Avery, DJ Masda, Roman Flügel, Ivan Smagghe & Optimo all headline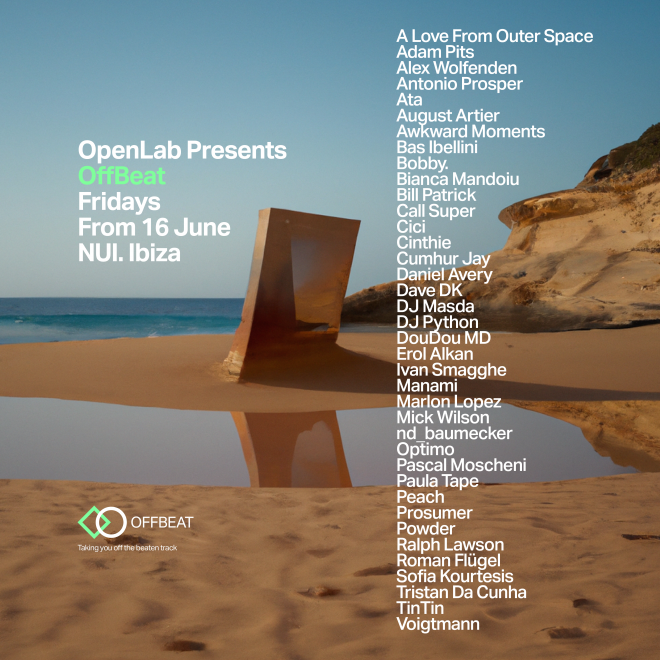 Ibiza's OpenLab presents OffBeat - Daniel Avery, DJ Masda, Roman Flügel, Ivan Smagghe & Optimo all headline
Visit: https://openlab.fm/news/openlab-presents-offbeat
For more on OpenLab: https://openlab.fm
Instagram:
www.instagram.com/openlablradi
Every Friday NUI Ibiza Opening 16th June 2023
Renowned for broadcasting cutting-edge music across the airwaves of Ibiza, OpenLab is excited to announce a new clubbing experience OffBeat featuring performances by an eclectic selection of artists who seldom grace the shores of the White Isle.
With OffBeat OpenLab continues our mission to bring back the avant-garde eclecticism for which Ibiza first became famous. We're looking to take people 'Off The Beaten Track' in Ibiza and provide an exciting, authentic alternative to the homogenized superclubs. A home for artists and clubbers alike to enjoy extended sets, experience new visual art, and be part of an event where music curation, artistic freedom and an inclusive policy sit center stage.
OffBeat will be held every Friday at NUI, an intimate industrial space situated in the heart of the Arts District on the edge of Ibiza Town. Complete with a finely tuned Function One sound system, late license and canvas for creating immersive AV experiences, NUI will host OffBeat from 16th June.
The response to OffBeat has been overwhelming with an unreal selection of artists across multiple genres all putting their trust in the project from the outset. There are several artists for whom OFFBEAT will be their Ibiza debut and others returning after many years of disillusionment. Highlights from the first seasons line up include:
A Love From Outer Space / Adam Pits / Alex Wolfenden / Ata / August Artier / Antonio Prosper / Awkward Moments / Bas Ibellini / Bobby. / Bianca Mandoiu / Bill Patrick / Call Super / Cici / Cinthie / Cumhur Jay / Daniel Avery / DJ Masda / DJ Python / DouDou MD / Erol Alkan / Ivan Smagghe / Manami / Marlon Lopez / Mick Wilson / nd_baumecker / Optimo / Pascal Moscheni / Paula Tape / Peach / Prosumer / Powder / Ralph Lawson / Roman Flügel / Sofia Kourtesis / Tristan Da Cunha / TinTin / Voigtmann
Founded by the late great Robert Miles and since reinvigorated by pioneering rave promoter and digital guru Quentin 'TinTin' Chambers, OpenLab is a global 24/7 culture platform based in Ibiza. Broadcasting worldwide via https://openlab.fm and on 104.4FM in Ibiza, OpenLab showcases a carefully curated selection of innovative, alternative electronic music and digital art. OffBeat looks to extend the platform's programming as we add live shows to the mix, delivering exciting DJ and AV performances.
Visit: https://openlab.fm/news/openlab-presents-offbeat for more information and to register your interest.
For more on OpenLab: https://openlab.fm
Load the next article