EVENTS
FRIENDSHIP 2024 REVEALS STUNNING LINEUP BOASTS A MIX OF LEGENDARY PERFORMERS AND RISING STARS
SKRILLEX, CHRIS LAKE, BOB MOSES, CHRIS LORENZO, BOYS NOIZE, VTSS, DESTRUCTO, JUSTIN MARTIN, MERSIV, VIGRO DEEP, RAVEN, TODD EDWARDS, NITEPUNK, SUN-EL MUSICIAN, DR FRESCH, SAFETY TRANCE, RUSKO, DESERT HEARTS, MR CARMACK, VOLAC, FLAVA D, A HUNDRED DRUMS, NALA, CRAZE, QRTR, G-REX, J.PHLIP, MARY DROPPINZ, MEDUSO, & MANY MORE
Laura Liendo
10 November 2023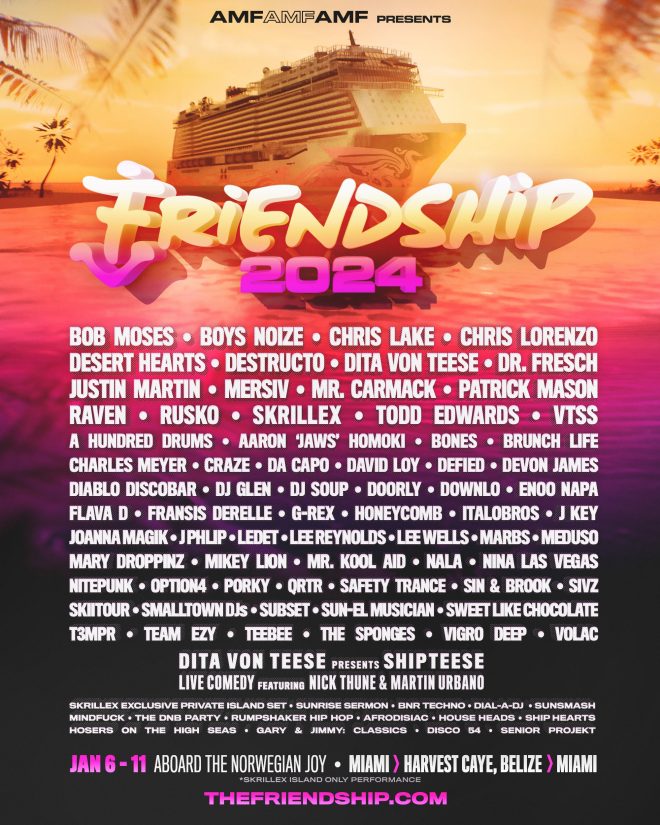 estructo, known for nearly 30 years of producing events and helping pioneer sea-bound electronic festivals, unveils his magnum opus: Friendship 2024. At the heart of this unique musical journey is Skrillex, poised to perform a special set during the 24-hour island party at Harvest Caye. The lineup is a harmonious blend of world-renowned artists and emerging talents, with heavyweights like Chris Lake, Bob Moses, Boys Noize, and Chris Lorenzo leading the pack.
Friendship 2024 offers more than just music; it's a convergence of various entertainment forms. With a commitment to diversity and exploration, the cruise invites attendees to a holistic community-driven experience, bringing together a diverse range of artists and performers intermingled amongst fans and friends alike.
Exclusive to Harvest Caye, Skrillex promises an unforgettable island show. Adding to this, Destructo will present his signature Sunrise Sermon on the island, the first time-ever for of one of his sailings. A cherished tradition of the cruise, the Sunrise Sermon draws in everyone for a unified musical celebration led by Destructo, accompanied by live acts and surprise collaborations.
Setting sail from Miami on January 6th, 2024, the voyage will offer attendees a picturesque journey through the Caribbean, making a stop in Belize for the 24-hour island party at Harvest Caye, before culminating back in Miami on January 11th, 2024.
The event also features iconic acts such as Chris Lake, the trailblazing duo Bob Moses, visionary Chris Lorenzo, and the dynamic beats of Boys Noize, ensuring attendees a rich and immersive musical narrative.
Destructo, a master at scouting emerging talent, has enriched the lineup with a selection of stars on the rise that enhance the depth of the event. VTSS, recognized by Mixmag as an artist who defies any box, promises an unparalleled dance floor experience with her electrifying DJ sets. Meanwhile, Sun-El Musician, who epitomizes the vibrant rhythms of South Africa's Kwazulu Natal Highlands, is set to head Friendship's exclusive takeover from the afro-house label, AFRODISIAC.
Showcasing soulful Amapiano beats, Vigro Deep emerges as a modern beacon, revolutionizing the genre with his distinctive production skills. Berlin's Raven embodies transformation, bringing a blend of DJing, production, and vocals that resonates with the mystique of her namesake. Nitepunk, with roots in Georgia's rave scene, showcases a genre-defying sound that mirrors his journey from passionate newcomer to an established name in the industry. Together, these artists, including the likes of Safety Trance, illustrate the diversity and dynamism Destructo consistently brings to the stage, ensuring that this event stands out in the annals of electronic music.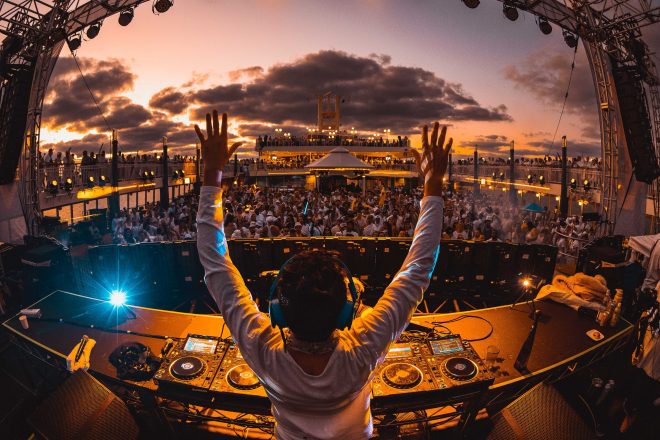 Renowned for his transformative influence on the garage house genre, Todd Edwards is more than just a trailblazer; he's a legend. Beyond his innovative sampling techniques and hits like "Saved My Life", Edwards' collaborations with Daft Punk, particularly on tracks such as "Face to Face" and the Grammy-winning "Fragments of Time", solidify his esteemed status in the world of electronic music.
The event celebrates bass music with artists such as Mr Carmack and A Hundred Drums, recognized by Forbes for her captivating style. Additionally, beloved dubstep legend Rusko will perform, as will North American sensation Mersiv, the latter offering a preview of his anticipated album, Out of Bounds.
Spotlighting the dynamism of women in the electronic scene, NALA has ignited the Dirtybird community with her indie house touch. QRTR, backed by acclaim from Mixmag and DJ Mag, is on tour with ODESZA, while Mary Droppinz delivers standout global performances, sharing stages with icons like SOFI TUKKER. Internationally, Flava D dominates the UK garage, grime, and bassline scenes, and Australia's Nina Las Vegas has championed the underground dance sound with a decade at triple j and her pioneering label, NLV Records. Together, these women underscore the depth and diversity of female talent in electronic music.
Spanning the globe with a pulsating heartbeat of electronic music, this event promises a spectacular international lineup. From the rhythmic beats of Brazil's DJ Glen, the energetic vibes of New Zealand's Sin & Brook, the raw intensity of Russia's Volac, to the innovative soundscapes from Berlin's Patrick Mason — it's a worldwide journey on our ship, celebrating the universal language of music.
The curation for Friendship 2024 showcases a diverse tapestry of sound, spotlighting an endless list of rising acts that span the vast spectrum of electronic music. Among these are Honeycomb, J Phlip, Nitepunk, Meduso, G-Rex, Option4, Raven, Subset, Downlo, Smalltown DJs, Volac, and Vigro Deep, each set to bring their distinct sonic signatures, ensuring attendees experience the vibrant future of the electronic scene.
Adding a vintage flair, Dita Von Teese pays tribute to the Golden Age of Cinema with her celebrated cabaret. Adventure enthusiasts can witness the breathtaking stunts by the Friendship Pro Skate Team, including Aaron 'Jaws' Homoki and David Loy. Meanwhile, onboard comedians Nick Thune and Martin Urbano promise a dose of humor.
The cruise takes place aboard the Norwegian Joy, a symbol of luxury and innovation and the largest vessel in Destructo's esteemed promotion career. Following its $50 million revamp in 2019, the ship boasts features like a state-of-the-art racetrack, VR pavilion, and the scenic Waterfront promenade.
Embodying the Friendship ethos: "There's a place my friends and I go to do fun things—the kind of fun that creates everlasting memories, moments that are priceless and irreplaceable. When I look back and reminisce about the experiences that shaped me, I'll think about all the friends I made along the way. They are more than ALL MY FRIENDS; they are my family!" The Friendship legacy is an evolving symphony of music and camaraderie, each year adding a distinct rhythm, always centered around unforgettable experiences and enduring bonds. For more details on Friendship 2024, visit: thefriendship.com.
Load the next article