News
Brighton Music Conference
Over 200 Industry Leading Professionals Confirmed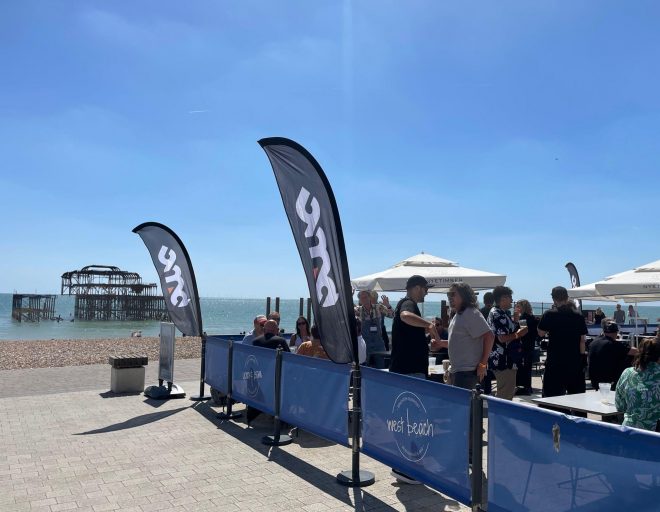 Over 200 Industry Leading Professionals Confirmed for Brighton Music Conference
Over 200 industry leading professionals taking part in panels and workshops
Over 50 panels and workshops during the 2 day event
Keynote Interviews with Fabio & Grooverider, Dave Clarke and Simon Dunmore
Legendary singer Jocelyn Brown will join the 'vocals in dance music' session
In depth label talks with Toolroom and Jack Said What
Radio 1's Charlie Tee and Jess Iszatt talking about all things radio
Orbital's Paul Hartnol will delve into the 'Power of Sound'
HE.SHE.THEY founders Steven Braines and Sophia Kearney on the highs and lows of reaching their 5 year milestone
The award-winning Brighton Music Conference (BMC), the UK's leading electronic music and networking event has added even more names for its 10th Anniversary edition and the conference program is now complete. Taking place from the 24th to 26th of May 2023 at the prestigious Brighton i360 beachfront complex, the 2023 edition will welcome some of the biggest names in the electronic music scene. It's the perfect summer warm-up event for industry professionals and music lovers alike.

BMC 2023 will once again present a jam-packed program will include over 50 panels and workshops covering the key topics relevant to the industry such as; panels, Q&A's, workshops covering all the important topics including; A&R, SYNC, Publishing, PR & Marketing, Social Media, AI, Web3, Metadata, Sampling, Self Releasing, Running a Label, Radio, Mental Health, Sustainability and much more. There will also be workshops and masterclasses to deep dive into topics presented by: BIMM, Future Music, Mixmasters, The Loop and Toolroom.

As well as the keynotes with Fabio & Grooverider and Dave Clarke, DJ Paulette will interview Simon Dummore in the 'House that Dummore Built', and the legendary Jocelyn Brown will join this year's session on 'vocals in dance music'. Other highlights include; renowned author Irvine Welsh speaking on the Jack Said What label session and Bushwacka!, Harriet Jaxxon, Normski and Timo Maas on the 'DJ Q&A'. DJ Rap and lau.ra will join the 'Producer Q&A', James Hype will be doing a live demo and also speaking on our sampling panel and one of Leftwing:Kody will join the A&R panel for Spinnin' Records. Radio 1's Charlie Tee and Jess Iszatt talking about all things radio, Judge Jules will be on hand to give advice on 'Negotiation Strategies' and Ralph Lawson will give insights into setting up your own label. Orbital's Paul Hartnol will be speaking about the 'Power of Sound' whilst Krafty Kuts and Stanton Warriors will discuss the evolution of breaks.

The NTIA will also highlight how 'electronic music shapes communities, culture and economies' with Alan Fitzpatrick, Lisa Lashes and Chris Goss (Hospital Records) and Silvia Montello (CEO AIM) and Laura Olivia (Help Musicians) will join Gareth Mellor (Fuga/Downtown) in 'Making sense of the modern music industry and making people thrive'. Amber D and Jumping Jack Frost will talk about social responsibility with the team behind Last Night a DJ Saved My Life and HE.SHE.THEY founders Steven Braines and Sophia Kearney will discuss the highs and lows of reaching their 5 year milestone.
Networking is also a big part of the BMC ethos. There are plenty of opportunities to meet industry colleagues and connect with like-minded people at the many exclusive networking parties at some of Brighton's best-loved venues including the legendary Brighton i360 pod parties. Full list of events can be viewed here: https://www.brightonmusicconference.co.uk/bmc23_events/

Full list of confirmed speakers (In alphabetical order):
Abi White (Kartel Music Group), ABSOLUTE. (DJ / Producer), Aidan Lavelle (Universal / KPM / Sony / SATV), Alan Fitzpatrick (We Are The Brave), Alex Baker (Gaydio), Alex Branson (Senior Vice President, Beatport Music Services), Alex Kane (CEO OF VOLTA XR), Alex Kenning (OpenDAW), Allan McGrath (Anjunabeats), Amber D (DJ / Producer), Amy Jayne (1985 Music), Aneka Johnson (Cuddle Club), Annie Norman (Anjunabeats), Antony Prior (Stompa Phunk), Ash Howard (PRS for Music), Ashraf Ejjbair (HE.SHE.THEY), Badger (Critical Music), Belinda Matwali (Meditation Guide), Ben Sumner (Feel For Music), Brendan Long (WME), Bushwacka!, Callum Hughes (Lab 11 / TRMNL Management), Camden Cox (RCA/Insomniac/Defected), Cameron Fyall (Ninja Tune PM), Carl Hayden Smith (Museum of Consciousness), Carl Loben (DJ Mag Editor), Carly Heath (Bristol Council Nightlife Advisor), Carly Wilford (DJ / Producer), Caspar Kedros (BMG PM Global Creative Content), CASSIMM (Glasgow Underground), Chad Jackson, Charlie Phillips (PTR Strategic), Charlie Tee (Radio 1), Chloe Johnson (Verifi Media), Chris Goss (Hospital Records), Christine Osazuwa (Measure of Music, Shoobs), Claire Murgatroyd (Anjunadeep Marketng Manager), Clara Suess (Suess Media), Connie Chow (FUGA), D.Ramirez, Damien Fell (Slap That Sound / Skiddle), Damien Platt (Glasgow Underground), Daniel Curpen (A&R, Anjunadeep), Danny Rampling, Dave Clarke, David Crooks (The Peace Project), Dean Marsh (Creative Law & Business), DJ Paulette, DJ RAP, DJ Sappo, Duncan King (Skiddle), Ed Jenkins (Ed Jenkins Mgmt), Ellie Talebian (DJ / Presenter), Emilie Birks (VP Marketing for The Beatport Group), Emma Marshall (Movement Is Medicine), Eve Horne (Peak Music), Fabio & Grooverider, Farah Nanji (Mission Makers podcast / N1NJA), Frankie Wells (Foundation FM), Gareth Deakin (Sonorous), Gareth Jones (Anjunabeats A&R Director), Gareth Mellor (Downtown Music Holdings / Music Minds Matter), Grace Capaldi (Producer/Musician, Echotown Studio), Grahame Farmer (Data Transmission), Habs Akram, Hans Hess (Egg London), Harriet Jaxxon (DJ), Heiko Hoffmann (VP Global Artist Services - Beatport Group), Huxley (Toolroom Records), Irvine Welsh (Author / Record label boss), J-Felix (Tru Thoughts), Jack Broom (Artist Development Coach / Label Manager), Jacob Husley (WYS! Fabric), James Holdsworth (Mental Health First Aid (MHFA) Instructor, BMC, LNADJ), James Hurr (Toolroom), James Hype (DJ / Producer), James Wiltshire (Freemasons), Jane Dunford (Forests Without Frontiers), Jansons (CircoLoco Records), Jasmine Watts (CTRL FRK Management), Jataneel Banerjee (Relationship Manager - PRS for Music), Jay Ahern (Cyanite.ai), Jenni Cochrane (Getahead), Jeordie Shenton (Tonic Music), Jerry Clavier aka Sol Goodman (Tru Thoughts / Local Talk), Jess Iszatt (Radio 1), Jess Kidd (Stealth Records), Jess Nash (Head of Sync at Defected), Jo Gardner (Unholy Management), Jocelyn Brown, Joe Gardner (Grape), John Roffe-Ridgard (Production DEM), John Truelove (Truelove Music Publishing), Johnathan Waller (Strikeforce), Jon Carter (DJ / Producer), Jonathan Scratchley (Good Vibrations Society), Jono Heale (ACS), Joost de Boo (Thunderboom), Josh Gunston (FFRR / Southpoint), Jules O'Riordan AKA Judge Jules (Global DJ / Lawyer Sound Advice), Jumping Jack Frost (DJ / Producer), Just Her (Anjunadeep), Justin Rushmore (Soul of Man), Kag Katumba (R&S Records), Katy Porter (The Loop), Kelly Burke (JIM / Ninja Tune), Keturah Cummings (Forward Slash), Kitty Bartlett (Percolate), Krafty Kuts, Krystal Roxx (We Are Superfoxx), lau.ra (DJ), Laurie Olivia (Help Musicians), Leftwing:Kody (Spinnin' Records), Lisa Twohig (Anjunabeats), Lisa Lashes (DJ / Producer), Lisa Moorish (DJ / Producer), Liz Northeast (FUGA), Lizzie Curious (DJ / Producer / Singer / Songwriter), Lucy St. John (Defected PR & Promotions Manager), Madame Electrifie, Mark Knight (Co-Founder / Creative Director), Mark Wilkinson (Life Remixed), Markus Saarländer (Berlin-Brighton), Martin Wright (BIMM), Matt Allen (The Famous Company), Matt Hodson (BIMM), Matt Smallwood (Toolroom Records A&R), Max Tiel (Thunderboom), Maya De N'Yeurt (Hospital Records), Megan Lawrenson (Creative/Licensing), Meike Nolte (b:electric), Michael Dolan (Drake Music), Michael Wilson (Tech Editor, DJ Mag), Mike Kill (NTIA CEO), Mila Falls (Ultra Music), Miles Shackleton (Brand Director), Myradh Cormican (Frame Artists), Naomi Bressani (Republic of Music), Nick Baxter (BBC Studios Music Publishing Manager), Nico de Transilvania (Forests Without Frontiers), Nicolai Riise Madsen (Warm Music), Nikki McNeill (Global Publicity), Normski, Pal Chohan (PIXELYNX), Patrick Hagenaar (Whoa! Promo), Paul Hamill (Co-founder Inflyte), Paul Hartnoll (Orbital), Paul Hutchinson (Clockwork Orange / Rockin Social Agency), Paul Wells (Elite Music Management), Pete Griffiths (Toolroom Records), Phil Sagar (Armada Music), Rachel Menzies (BMG PM, Music Supervision), Ralph Lawson (20:20 Vision / Back to Basics), Ramin Rezaie (Solid Grooves), Rebecca Rees (Community Manager at Parlophone / Warner Records), Rob Davy (DJ / Producer), Robert Luis (Tru Thoughts), Romy Harber (Global Head Of Dance & Electronic, Believe), Rosanna Connolly (Morena Communications), Roșie Smith (Artist Manager, Canny Management), Roxy Roberts (Promotions Manager, Patterns), Ruben Planting (DeepGrooves), Sandra Maniraguha (Life Coach), Sandy Marris (One House), Saoirse Kavanagh (Outernet Live), Sarah Wilson (Tunecore), Sarasara (Artist-philosopher / Researcher, BIMM), Saytek, Scott Garcia (Kiss FM), Seamus Haji (Defected A&R Manager / Big Love), Sergio Bienati (Club Class), Shamus Damani (Defected Records), Si Truss (Future Music), Sian Bennett (Mustard Media), Silvia Montello (CEO AIM), Simon Dunmore, Sofia Ilyas (Chief Community Officer Beatport), Sophia Kearney (HE.SHE.THEY), Sophie Elliott-Sheen (PRS for Music), Stanton Warriors, Steve Mac (DJ / Producer), Steven Braines (HE.SHE.THEY), Stuart Knight (Toolroom MD), Tammy Tinawi (Senior Music Consultant Cavendish Music), Tank Edwards (Warm Audio Mastering), Tilo Hall (Songs In The Key Of Knife / Hospital Records), Tim Adnitt (VP of Products, Soundwave/Native Instruments), Tim Belcher (Flip Fantazia / NOLAN), Timo Maas, Tom Middleton (White Mirror), Toni Tambourine (Tambo PR), Tracie Storie (Elemental Resonance), Tristan Hunt (Music Industry ADHD Coach / Neurodiversity Advocate), Valda Chošnau (AFEM), Chubbs (Cuddle Club), Vijay Anand (Head of Marketing, LNADJ), Wildblood & Queenie, WIll Darling (EDM Tips), Will Sumsuch (Director - Only Goodstuff PR/ 5 Mag Chicago), Yam Who? (Midnight Riot), Yvette Chivers (DJ MissChivers / The VIP Experience).

Speakers and representatives confirmed from industry leading companies including; (In alphabetical order):
125 Music, 20:20 Vision, 5 Mag, ACS, AFEM, AIM, Anjunadeep, Anjunabeats, Armada Music, BBC Radio 1, Beatport, b:electric, Berlin:Brighton, BIMM, BMG Production Music, Cavendish Music, Cyanite.ai, CircoLoco Records, Clockwork Orange, Club Class, Creative Law & Business, Critical Music, Cuddle Club, Decadance UK, Data Transmission, Decoded, DeepGrooves, Defected, DJ Magazine, Egg London, EDM Tips, Elemental Resonance, Elite Music Management, Fabric, Finger Lickin' Records, Forests Without Frontiers, Foundation FM, Frame Artists, FUGA, Funktion One, Future Music, Gaydio, Getahead, Good Vibrations Society, Glasgow Underground, Society, Global Publicity, Grape, Help Musicians, HE.SHE.THEY, Hospital Records, i360 Brighton, Iconic Underground, Inflyte, Jack Said What, Keep Hush, Kartel Music Group, Kiss FM, Lab 11, Last Night A DJ Saved My Life, Measure of Music, Meoko, Mission Makers Podcast, Mixmasters, Mobilee Records, Movement Is Medicine, Mustard Media, Native Instruments, Ninja Tune, NTIA, OpenDAW, Outernet Live, Patterns, Parlophone, Peak Music, Percolate, PRS For Music, PIXELYNX, R&S Records, Republic of Music, Rights Hub, shesaid.so, Shogun Audio, Skiddle, Sonorous, Solid Grooves, Sound Advice, Soundwave, Spinnin' Records, Stompa Phunk, Strikeforce, Suess Media, Sync Inspire, Syncvault, Tonic Music, The Egg, The Famous Company, The Loop, The Peace Project, Thunderboom, Toolroom Records, Tunecore, Tru Thoughts, Truelove Music Publishing, Ultra Records, Unholy Management, WARM, Warm Audio Mastering, Warner Records, WaterBear College Of Music, We Are The Brave, WME, Vochlea, Volta XR.

BMC - Where Beats Means Business
More info on BMC here: https://www.brightonmusicconference.co.uk/
BMC also supports the charity Last Night A DJ Saved My Life


BMC Tickets
BMC Golden tickets - Sold out
BMC tickets are onsale now for £125 + b/f from the BMC website: www.brightonmusicconference.co.uk

About Brighton Music Conference
The award-winning Brighton Music Conference (BMC) is the UK's leading electronic music conference & networking event, focusing on innovation, education & the key issues facing the electronic dance music sector. BMC brings together Industry-leading delegates and speakers at over 60 talks, seminars and workshops, alongside networking events throughout the conference duration. It is attended by 1000s of experienced music industry professionals, the next generation of DJs, producers as well as electronic music enthusiasts. BMC was also awarded by the NTIA at the Ambassadors of the Night Awards 2019 for their work and commitment to developing awareness and education of the UK Electronic Music Scene internationally within the NTE.
Load the next article